Convention Report: Anime Milwaukee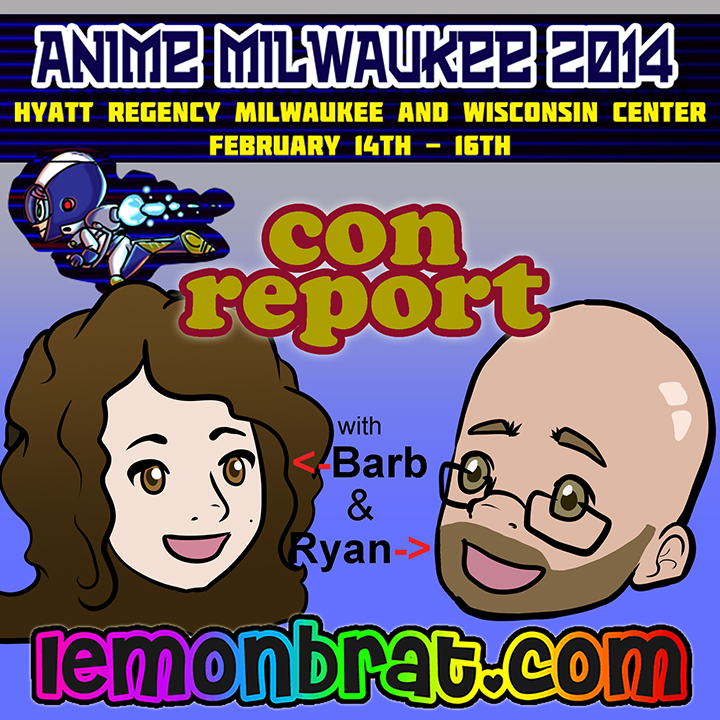 I'm going to be honest with you guys - I can barely lift my arms to type this con report.  Anime Milwaukee was so much fun that I'm still exhausted.  We were lucky enough to score a great spot in the dealer's room this year and we had non-stop traffic from beginning to end.  On top of that, AMKE really pulled out all the stops to make sure that the Lemonbrat crew had plenty to do after hours!  It's hard to believe that we were only up in Milwaukee for 3 days, but what a great 3 days they were...
Anime Milwaukee was hosted in the Hyatt Regency Milwaukee and Wisconsin Center.  The venue is top notch with great decor, friendly staff and skyways to help bridge the gap between the convention center and the hotel ( a must for winter cons).  This was Lemonbrat's 2nd year at AMKE, but the clean layout and helpful signage made it feel like a con we've been attending for twice as long.
The Lemonbrat booth was a behemoth this year, encompassing a whole corner of the dealer's room.  We had all of our classic hoodies on display as well as a few newbies to the line-up.  The Good Sheep and Baaad Sheep hoodies were hung up across from a bright pink squid hoodie that featured deluxe tentacle sleeves.  And ghese weren't the only new thing in town - we also had all new banners and signage to showcase the hoodies, The Little Woods, the Fruit Bats and the grand return of our dress-style hoodies!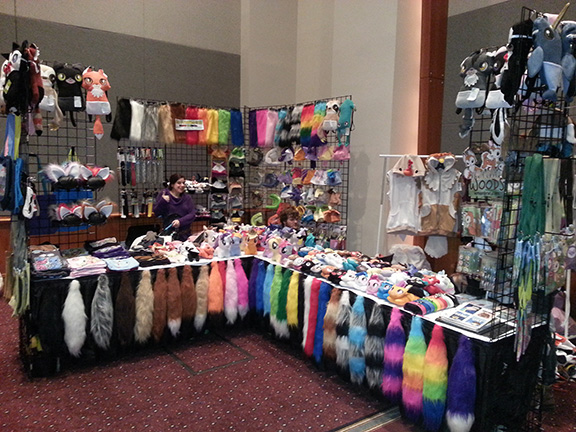 There were a lot of other great sites to see in the dealer's room, too.  Barb spent a disturbing (yet understandable) amount of time hanging out at the Feral Works table.  We currently have one of their velociraptor busts hanging in the bathroom.  Jeanette got some cute new red panda earrings from Sorbet Jungle and I began building my dream backpack with the guys from Equilibrium.  The AMKE staff should be commended for keeping the traffic flowing smoothly through both the dealer's room and the artist alley areas.  And speaking of staff, how cute are the Hyatt staff in their very own AMKE colored furry ears!  We whipped these up for them before the con and it was a delight to them being worn all weekend long!

It should come as no surprise that we love Anime Milwaukee.  Even if you look past the fact that it's close to home, AMKE is a party con of the very best quality and we're already looking forward to 2015!